Scottish Winter Skills Courses
Winter mountain safety skills courses for walkers.
We run similar courses for skiers and snowboarders. See our Ski Mountaineering Courses page.
PLEASE NOTE THAT OUR INSTRUCTOR:CLIENT RATIO IS A VERY LOW, 1:3.

Working with my wife Linda Biggar these courses are designed as an introduction to winter walking, and will look mainly at the mountain skills necessary to walk safely over Scotland's munros in winter. They are suitable for any experienced walkers. Whilst experience of summer hillwalking in Scotland is an advantage it is not necessary to have this beforehand.
Areas we'll aim to cover on the courses include the following:- route planning, weather & avalanche assessment, winter navigation, use of ice-axe and crampons. Each course will be kept very flexible to adapt to the needs of the clients who book, there will normally be two of us working on the courses so we can divide the group according to skills or aspirations. To some extent we will also have to adapt to the Scottish weather and snow conditions, which can be unpredictable.
Apart from suitable winter boots, we can provide all equipment necessary such as ice-axes, crampons and helmets. We can easily help to arrange boot hire if you need it, or advise you about what kind of boots to purchase.
DATES & PRICES ARE LISTED BELOW, OR CLICK ON THE LINK.
John Biggar running a Winter Skills Weekend for the Galloway Mountain Rescue team while based in the Cairngorms, Scotland. Conditions are not always nice and sunny.!
Please note that while these scheduled courses are planned to run in the Aviemore area, we can also run courses at other venues to suit. Other good options include the Ben Lawers area in Perthshire and the Glencoe and Fort William areas in Lochaber.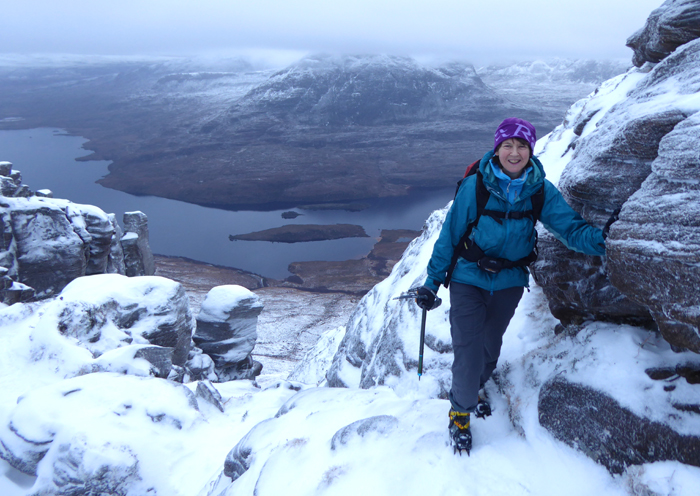 Linda Biggar on the winter ridge traverse of Stac Polllaidh in northwestern Scotland, Hogmanay 2017.
We use the wee town of Aviemore in the Scottish highlands as a base for these courses. There are various accommodation options in this area, including hostels, B&B and hotels. We can help with arranging accommodation once you have booked a place on one of these courses. Travel to the area is easiest by car from most of Scotland or northern England. From further afield it is possible to arrive by train or to fly into Inverness airport and rent a car (or we may be able to pick you up there). If you want advice on travel and accommodation options before booking please ask!
---
A SIMILAR PROGRAM WILL BE ARRANGED FOR WINTER 2023 - Details available in October 2022
13th February 2022 - 1 day course - Sunday
26th February 2022 - 1 day course - Saturday
26th & 27th February 2022 - 2 day course - Saturday & Sunday
5th March 2022 - 1 day course - Saturday
5th & 6th March 2022 - 2 day course - Saturday & Sunday
---
PRICES & COSTS
Our price doesn't include your accommodation and travel to the area, but we can help you to arrange these.
1-day course fee -- £80 per person.
2-day course fee -- £150 per person.
PLEASE NOTE THAT OUR INSTRUCTOR to CLIENT RATIO IS 1:3.
THIS IS BETTER THAN ANY OTHER WINTER SKILLS COURSE WE'VE SEEN ADVERTISED.
Estimated Accommodation & Meals (1 or 2 nights) -- £100 to £150 per person
To book a course please print a Booking Form (PDF) (or use the .DOC version) and read the full Booking Conditions. I'll require a completed booking form returned by post or email and a 50% deposit payment per person. Full payment is due two months before the course.
We generally need a minimum of three bookings to run these courses. There will be a maximum of six on the courses (with two instructors). Private guiding is also available for groups or individuals. If you have three or more in a group we can offer a discount on the above prices.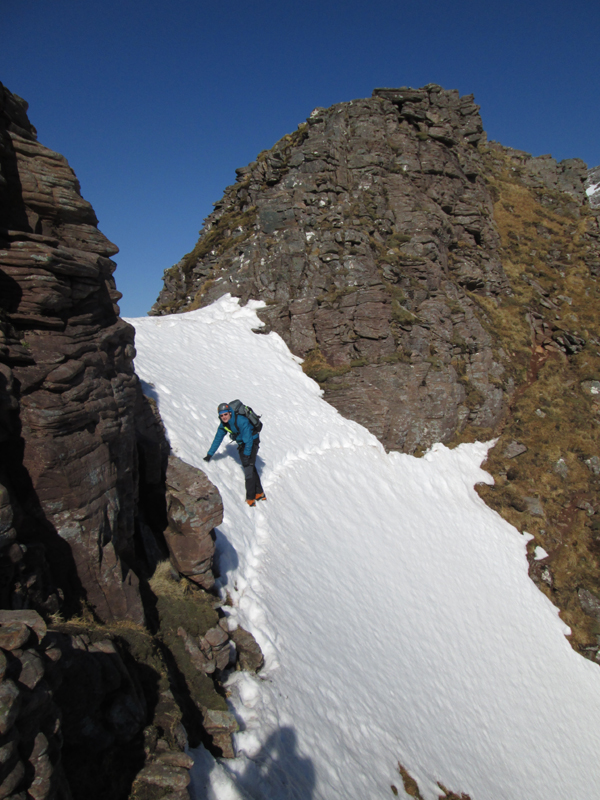 Spring snow conditions on the "winter" traverse of Liathach, Scotland, March 2015. ... and just to re-assure you, Barry is using an ice-axe, the snow is just too deep to see it!
---
SAFETY AND RISK
Winter mountaineering is an adventurous activity and all clients will be exposed to an element of risk by taking part in this course. While we take all reasonable precautions to reduce risk it is neither possible nor desirable to completely eliminate these additional risks. Some of these hazards carry the risk of serious injury or death. It is important that you understand the risks involved before signing our booking form. We have identified the following areas as the principal additional risks of this itinerary. This is not a fully inclusive list - please ask if you would like to see our more detailed risk assessment for this course before booking.
Remoteness : You will be several hours away from professional medical help for much of the time. In bad weather rescue and hospitalization could take many hours.
Weather : Bad weather, including gale and storm force winds, freezing temperatures and blizzard conditions are extremely common in the Scottish mountains. Whilst forecasts are generally quite good these days and we will plan our course to avoid the most extreme weather, we cannot foresee all eventualities.
Navigation : There is a small risk in extreme weather of becoming lost in the mountains.
Mountain Hazards : In certain places you may be subjected to a risk of rockfall. There are risks of injury from slipping and sliding on snow, and learning how to uses axes and crampons.
Avalanche : In the Scottish mountains in winter avalanches are common. Whilst we take all reasonable measures to avoid exposure to avalanche risk, we cannot foresee every eventuality, nor control what other mountain users do.
A more detailed and extensive full Risk Assessment is available for our winter courses. You should read this before booking!
---