Ski Mountaineering in Scotland
---
North West Highlands
North and west of the Great Glen fault the snow conditions can be a little less predictable due to the maritime influence of the weather. But the scenery is absolutely spectacular and many of the hills and mountains up this way are worth the longer drive when you know the conditions are good.
Strathfarrar. Strathconon & Glen Affric
For skiing in areas south of here see our West Highlands page
---
Far North West
The peaks north of Ullapool tend to be lower and a bit less reliable than most for snow conditions.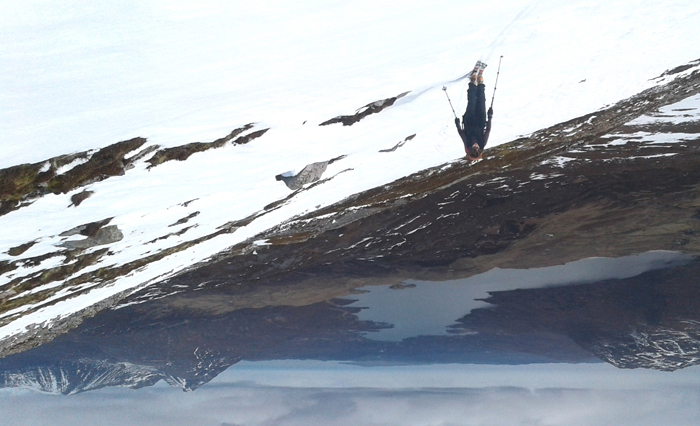 Skiing in spring conditions on Conival and Ben More Assynt, far northwest.
---
The Fannaichs
This group of hills near Ullapool give some good tours.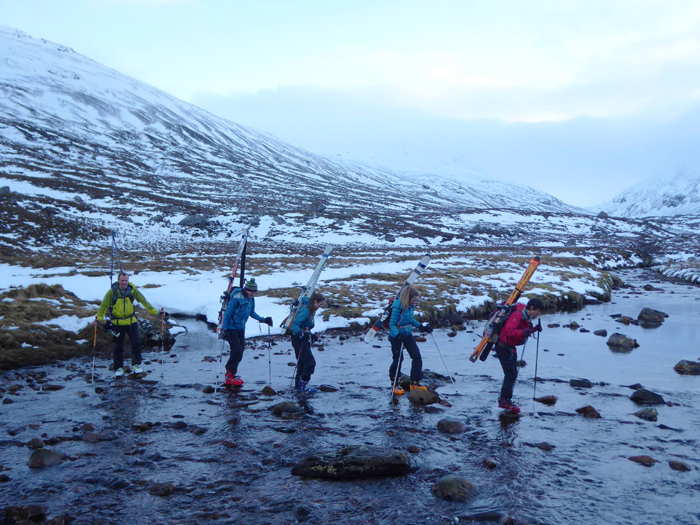 Ski mountaineering in the Fannaichs, Scotland. This photo was taken on the way back to teh car after skiing Meall a'Chasgaidh
---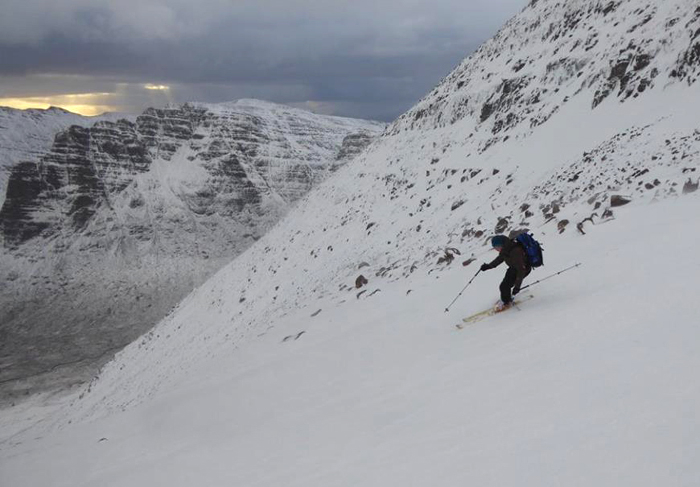 Descending Bheinn Bhan, Applecross in good early season conditions in November 2018.
Skiiing down Bhein Bhan in Applecross in winter.
---
Ben Wyvis
Ben Wyvis is a hill that is easily accessed from Inverness and often holds plenty snow. I've skiied it 3 times but never had good visibility on the summit for taking those photos.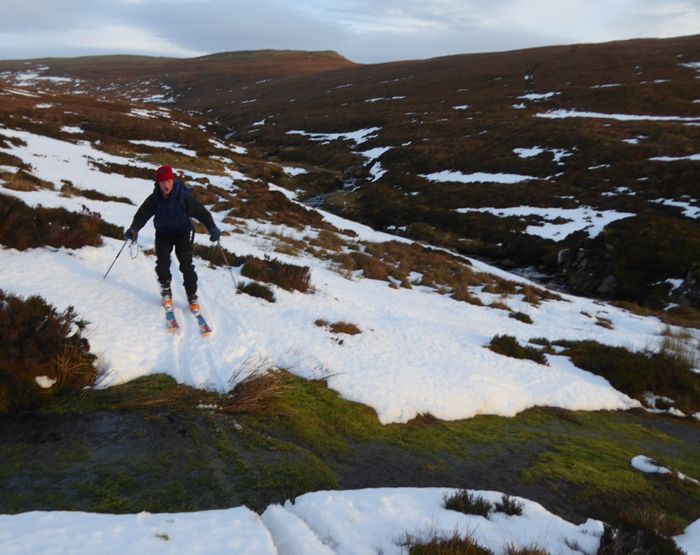 Making good use of the last of the snow on Ben Wyvis.
---
Strathfarrar, Strathconon and Glen Affric
Some of the more reliable northwest highland conditions are found on the big peaks up these glens, which lie southwest of but quite close to Inverness. Access is through the small village of Cannich.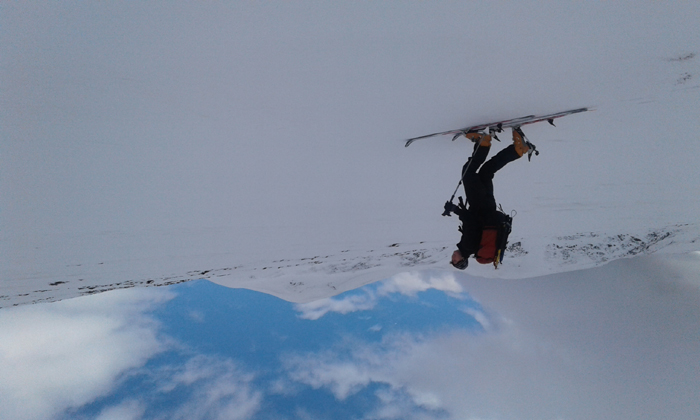 Skinning up the 849m high peak of Bac an Eich. A good shorter day out in this area.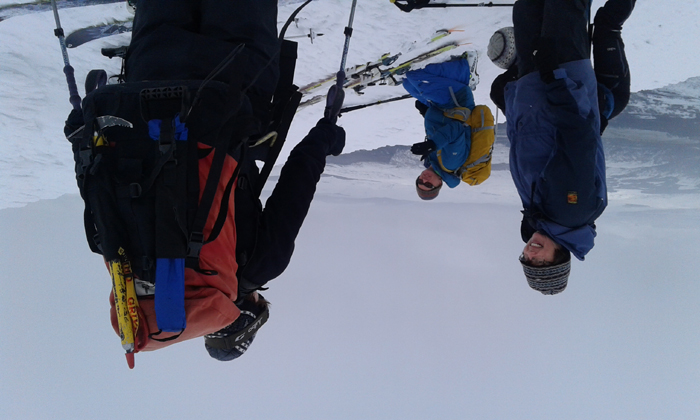 Summit changeover from skins tos skis on Bac an Eich.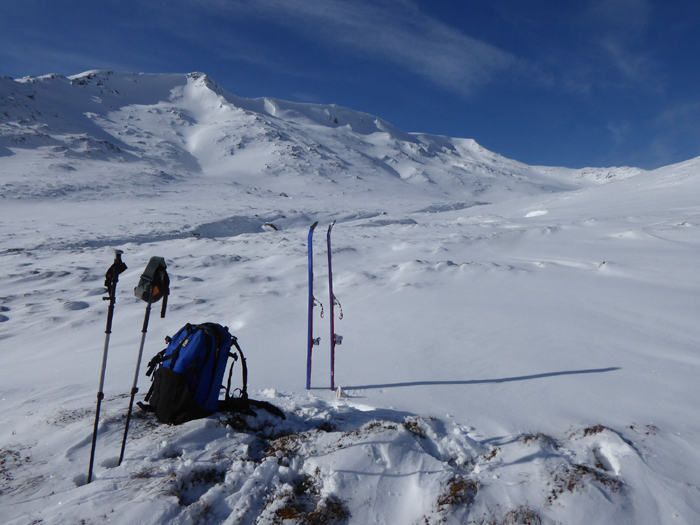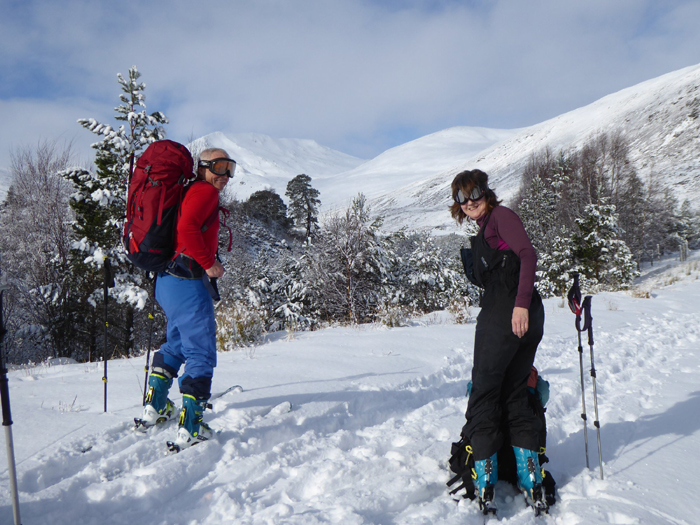 Skinning up towards Tom a'Choimmich and Toll Creagach. A spring day with fresh snow that was too hot for ski goggles, but we'd all three forgotten our sunglasses.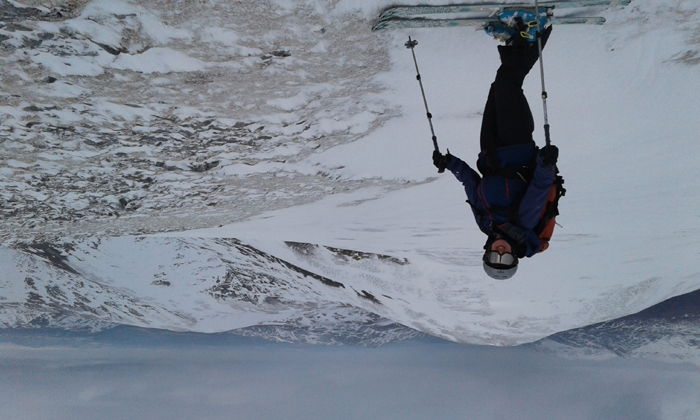 On the summit of Carn nan Gobhar in cold February conditions.
---
For skiing in areas south of here see our West Highlands page.