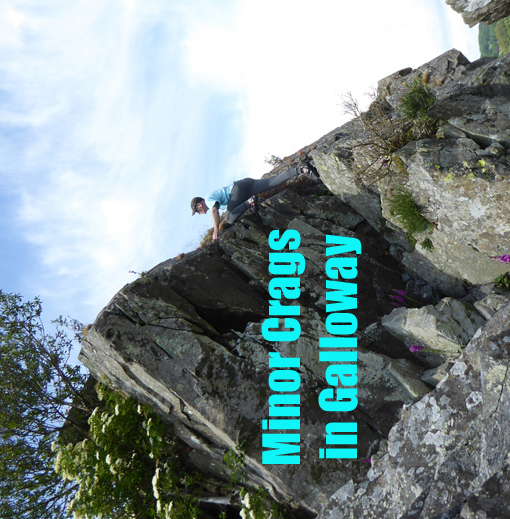 This page deals with the smaller rock climbing venues. For the smaller winter climbing crags see here.
This page gives brief details of some of the crags of Galloway that are less good or less popular. We also have a large index page detailing more than thirty of the more important Galloway Climbing areas.
Details of most of these crags can be found in the definitive guidebook - the SMC published "Lowland Outcrops" guidebook. A new edition is now being prepared but you may still be able to buy the 2004 edition available from online retailers such as Needlesports
Star ratings used here are as for the main index. Places I have no personal experience of have not been rated, but they may deserve stars.
Trouble choosing the perfect crag?? See our Galloway Crag Chooser page for tips about the best venues for serious adventures or mellow barbecues and picnics, and the best venues for an evening trip and worst venues for midgies and loose rock.
Balcary Seacliffs
no stars
Loose and scary. I wouldn't go there....
The Big Gairy
*
A big rambling overgrown heather and granite mass but not entirely unpleasant. Photo here
Burrow Head
Seacliffs at the foot of the Machars, near Whithorn with a reputation for being loose and intimidating. They are. Check out this picture if you don't believe it...!
Buchan Crag
**
A very small but clean and steep buttress, just north of Loch Trool at grid reference NX421814. There is a small crag diagram and description on the Needlesports website here....
Cat Craig
**
An excellent micro-crag near Castle Douglas with nine routes from Easy to 5b. But it really is micro. It's probably best as a bouldering venue of local interest only. See here... for a photo-topo.
Clawbelly Hill
*
This was an excellent slab for beginners and kids near the road just north of Clifton, however it is now very badly overgrown, and may even be hard to find. The compact granite has no gear. Several easy lines at Mod, Diff and V.Diff. See this old photo
Craigmichael
*
A small crag seen on the north side of the valley as you drive to Forrest Lodge from Dalry. Only about 8m high with relatively poor rock, but a nice setting. There are about 5 short routes at S or VS. See below for a photo.
Kiln of the Fuffock
***
A great name for this venue on the coast of the Rhinns south of Portobello with a large number of E3's and E4's. Reputedly very good rock but I'll never be strong enough to hang on to it for long enough to find out...also the improbable looking Penguin Parade at Diff.! see below for a photo.
Lions Head
*
A small crag above the village of Palnackie near Dalbeattie. Quite nice climbing at VS and HVS, with routes up to 30m long, generally with poor protection and now getting quite grassy!.I have never been back since seeing the debris from a massive rockfall one spring. See below for a brief topo.
Monreith
*
A small sea-cliff accessed from the beach at low tide. I found the climbing here to be quite poor and quite loose though its a very nice beach. Most of the ten or so routes are S or VS. See here below for brief details of one or two routes I have done.
Ringford Obelisk
**
A 12m high monument to the inventor of the Hotblast process, makes an unusual (and probably illegal) ascent. Back in the 1990's there used t be abseil tat in place around the "summit". Details here....
Quarries
I have looked into numerous disused quarries all over Galloway for many years and never found anything nice. Some hugely impressive holes in the ground on the moors above Creetown, lots of small venues i

n

Dalbeattie Forest, etc, but almost all of them are dangerously loose.
The Tauchers
**
A large rambling crag on the north side of Mullwharchar, some nice rock and some good pitches here and there, but a long bird ban and generally damp and midgy conditions make this one of the more "difficult" venues. Fortunately the Taucher's are not technically in Galloway at all (but in Ayrshire) so at least they can't drag the great reputation of Galloway climbing down.... The best of the routes are Switchback, VD on the Giants Stairway, the 200m Mod. Couloir first climbed in 1909 and the good corner of Behind the Mask, E1 5b ** on the Organ Pipes. There are another five or so E1-E3 routes plus a few Severe's and VS's. There are crag diagrams, photos and descriptions on the Needlesports website here....
For details of the major crags in Galloway please go to our Galloway Climbing Index page.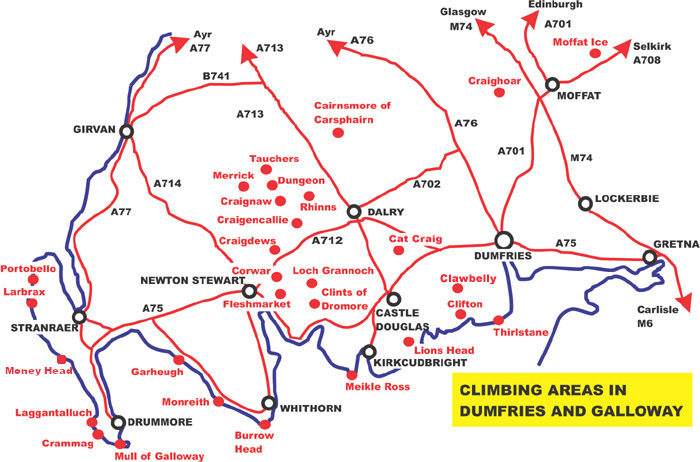 ---
Kiln o the Fuffock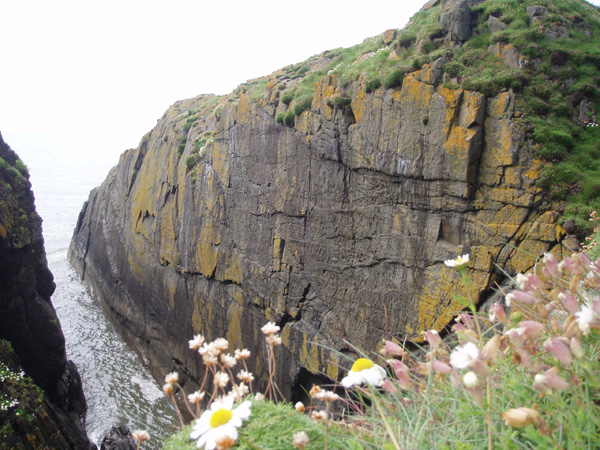 Kiln O the Fuffock, Rhinns of Galloway.
An impressive sea cliff in a nice setting , with good rock for Greywacke, but pretty serious grades.
---
Cat Craig
This is an excellent but very small micro crag in the Urr valley, near Kilquhanity School, just 10km north of Castle Douglas. It is more or less just a big boulder in a field, but with four different faces and nine routes from 5m to 10m long it's OK for a quick evening visit by locals. Drive north past Kilquhanity School and take the first left for Parton, cross the Urr and continue for a 100m or so until you can see the crag across a couple of fields to the south. A short rope might be preferable for the longer and/or harder routes as the landings are mostly poor. If you bring gear, then a few mid-sized to large nuts and cams will be plenty!. It would make a better easy bouldering venue if there were not quite so many nasty landings.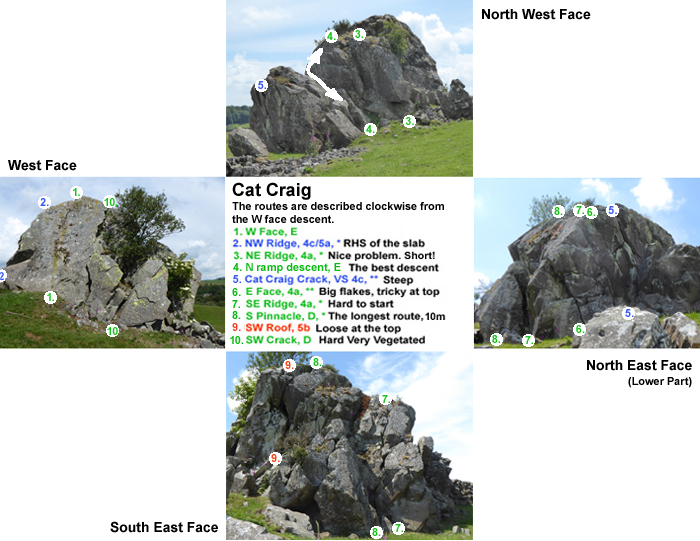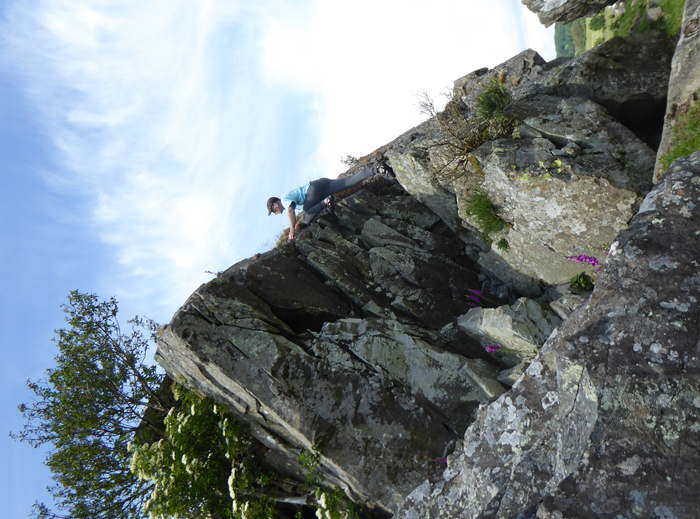 Climbing the South Pinnacle on Cat Craig, the longest route at 10m!
---
Lions Head
A very overgrown crag near Palnackie, just south of Castle Douglas. It's a lovely spot but the poor quality rock, rampant vegetation and general air of neglect make climbing here less than pleasant the now. Snout Direct is a 50m route up the front of the face, left of this are several HVS 4b's and risky E routes with little or no protection and many loose holds.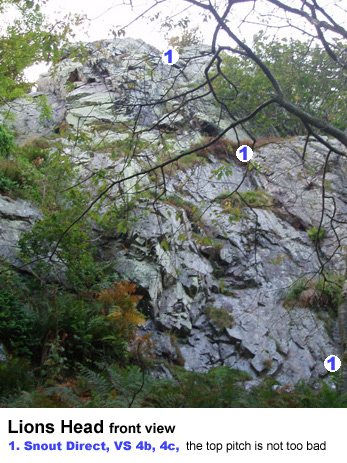 ---
Craigmichael
This small crag near Dalry is clearly seen on the north side of the river as you drive up the minor road towards Forest Lodge. It appears to be a reasonably large outcrop quite a short walk form the road.... but the laws of physics are pretty weird around here and it is in fact quite a small crag a long way from the road..! As further discouragement there are rare nesting birds and the rock is not great.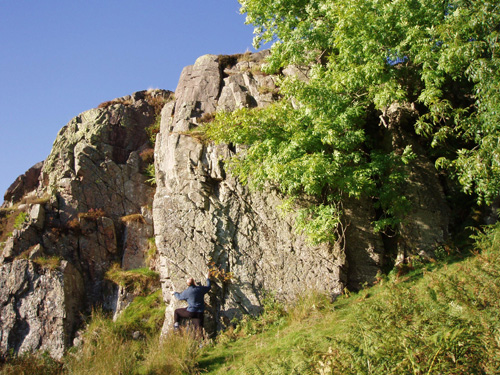 Several short 5-8m routes have been recorded here plus some bouldering, but it is not really worth visiting other than out of curiosity.
---
Burrow Head
The picture below is of the big scary 30-40m high main cliff at Burrow Head, near the Isle of Whitorn. It is now very loose and would need some attention before it will be safe to climb here again - the pale and reddish are at the right hand end all fell down in the last couple of decades..! We don't think anyone was attached at the time.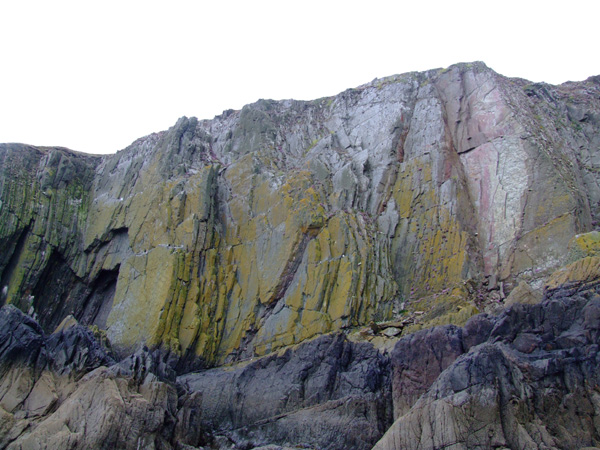 ---
Monreith
A nice spot about 2km south of Monreith village in the Machars. The crag is on the shore by the golf course. Access to the routes is directly form the lovely sandy beach, but only for 1 or 2 hours at low tide. It's a five minute walk form the end of the road. The routes are 15m long or so but are generally a bit loose and exciting, maybe the bouldering would be a better thing to come here for, since the landing is good.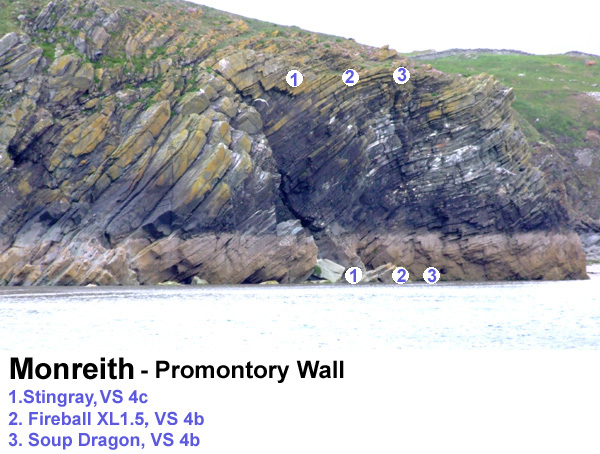 Just north of this, and pictured below is the larger 30m high Main Wall behind a pinnacle in the foreground - I haven't climbed here
---
Clawbelly Hill
A grand wee venue though there is little to interest the serious climber. It is however a good venue for beginners with easy slabby climbing at grades like Mod, Diff and V. Diff, relatively quick and easy access and tree stumps at the top to belay on. The easy angled slab is over 15m high (long?), but there are no runners anywhere that I have seen yet.
The slab is on a minor road north of Clifton, on the east side of Clawbelly Hill about five minutes walk uphill from the road from possible parking at the entrance to the Dumfries Gliding Club.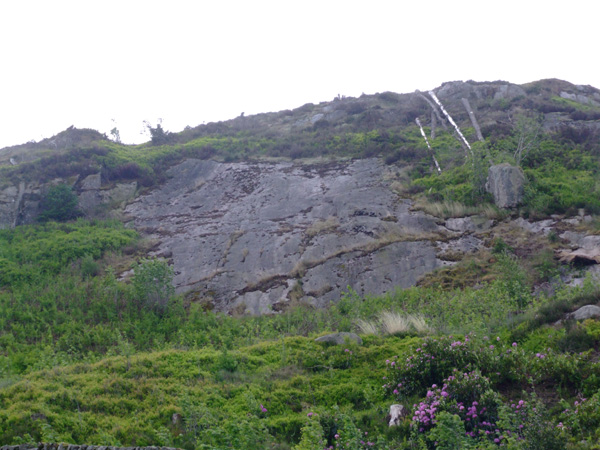 ---
Grey Mares Tail, Moffat Hills
This waterfall, on the lower slopes of the 822m high hill, White Coomb, gives one of the best ice-climbs in the whole of Southern Scotland, but comes into condition very rarely. In ten years in this area I have never seen it formed well enough to climb. It is a fairly scary and dangerous route even when it is formed, due mainly to the unstable nature of the ice.
---
Ringford Obelisk
This 10-12m high monument to James Neilson, the inventor of the Hotblast process, makes an unusual ascent. It sits on top of Barstobrick Hill just north of the A75 at Ringford. The obelisk was certainly climbed quite regularly in the 1990's by staff from Barcaple and other locals and for many years there was an in-situ sling around the top for belaying/abseiling. The south face, pictured below, is HVS 4c, the climbing gets harder (and more exposed) near the top. For the full ethical ascent a hanging belay on the summit can be personally recommended.
Whilst there is obviously a right of access to the foot of the monument and in general access rights apply to natural crags, I'm not sure about the legality of climbing man-made structures.