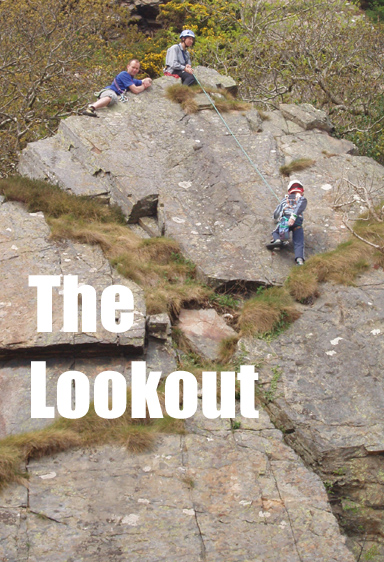 The access described in the 2004 guidebook is now closed. Updated access details are described below. Please be aware that several years ago fairly large amounts of rubble were thrown down into and over the crag from the construction of the million pound property above --- A very nice way to treat a national scenic area..!
Introduction The Lookout is a nice wee crag in Kirkcudbrightshire, on the Solway Coast between Sandyhills and Southerness and about 25km southwest of Dumfries. Although there are really only four or five 15m routes the climbing is nice enough and it's a good area to bring beginners. There is a short approach down a steep slope and great views over the sands of the Mersehead nature reserve on the Solway Firth.
Access To get here follow the A710 south from Dumfries, through New Abbey and Kirkbean. Lookout for a right turn signposted Southwick Church - this is the road up to Clifton Crag. Just after this there is a big dip in the road and a small parking area by the bridge (NX909558). Park here, room for two or three cars. Cross the road and walk straight towards the sea. At the top of the (very) steep slope turn right and walk almost exactly 50m westwards. Just here there is an easier angled "valley" leading downwards. Go down this for about 20m, turn right again just before it steepens and traverse a narrow cut path on steep grass for 20m. This section is now (2019) a little overgrown. Then carry on down a small rocky rib for about 20m before a very short, easy scramble down right and then an obvious walk down to the foreshore.
Descent From the top of the Watchtower descend to the right to reach the old approach path. From the Tombstone, scramble steeply down the back of the crag leftwards into a tunnel, go through this and on down.
Guidebook Included on this page are the best routes at the crag. I climb and instruct regularly here and have climbed all the routes at this crag. For a definitive list of all the climbs in this area see the SMC published Lowland Outcrops guidebook.
Dangers The crag is almost non-tidal, indeed there is some nice soft grass at the foot of the routes. However at high springs this will be submerged and all routes will be affected. This is a friendly wee crag but the rock is a bit friable and small holds may break off. Protection is however pretty reliable but bring lots of small wires and cams. In good weather the area is nice for family picnics, barbecues etc. as there is a nice grassy base. There is a large and slightly loose block at the very top of The Tombstone, be careful what you do up there.
---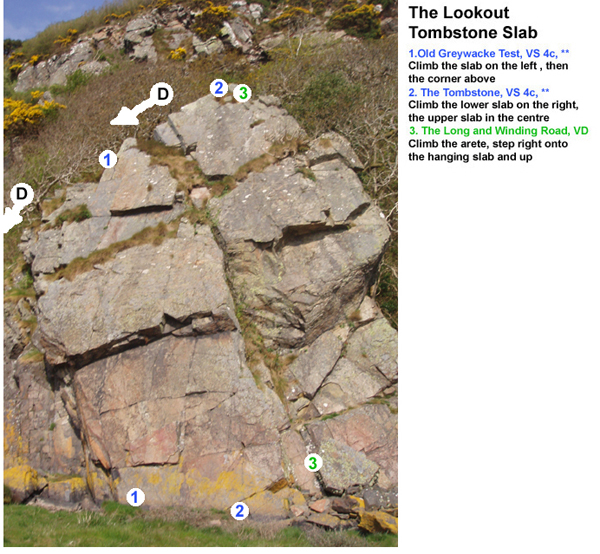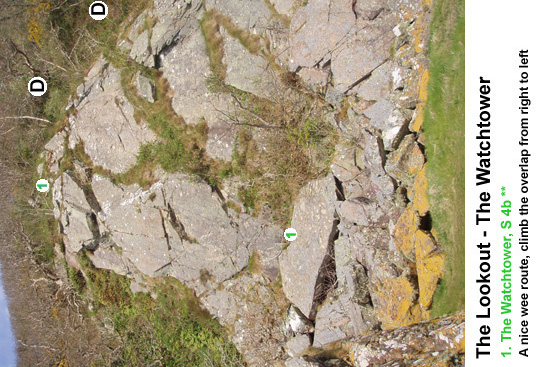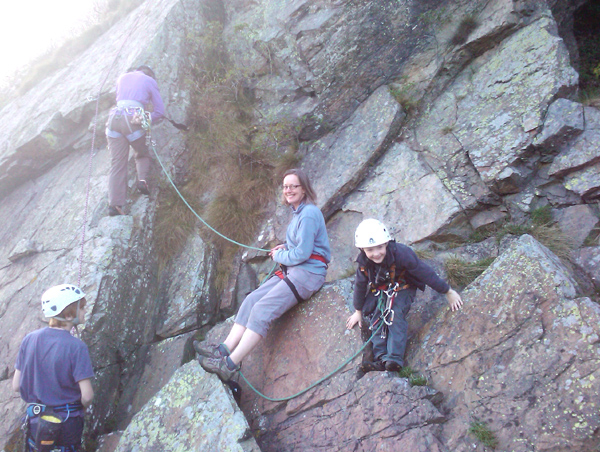 Above and below... kids enjoying the climbing at The Lookout.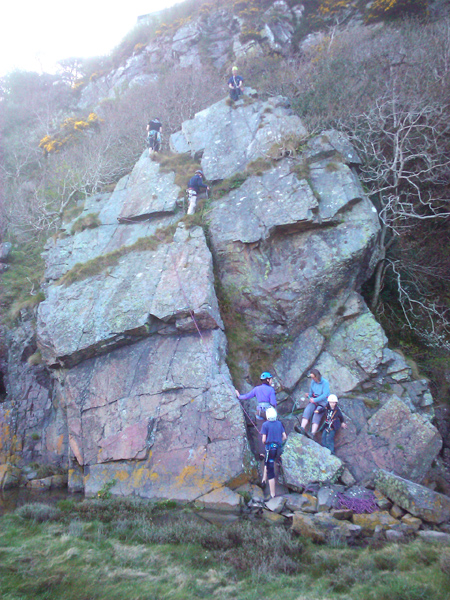 ---