Introduction The wee crag known as Craignarget on Shiel Hill is a nice venue with a good open aspect. Although the routes are short, the rock quality is excellent and the crag is more airy (and so less prone to midges) than many others in the Galloway Hills. It lies on the west side of a shoulder called Shiel Hill, which itself lies to the north of a hill called Craignelder (also known as Craig-an-Eilte), which is itself a northern outlier of Cairnsmore of Fleet. It is a quick drying crag.
Access The access is quite long, quickest by following the un-gated forestry roads as marked on the map up the valley to the east of Craignelder, starting from just near the Red Deer parking area. Either on foot or by mountain bike. Follow this forest road up the hill to a small parking area at GR518715. About 100m further up the road turn right and follow a forestry ride (a bit overgrown and a just a wee bit wet!), to the open hillside. Once on the open hillside it is more or less a traverse rightwards to reach the top of the crag in 15-20 minutes. The crag lies about 200m, south and west of the small cairn on Shiel Hill, at grid reference 512715
Dangers Some of the routes are not at all well protected because the cracks are mostly very flared. However the landing is generally good. A good range of mid-sized cams are required, sizes 0.5 to 2.0 Camalots (grey, purple, green, red, yellow). Wires, hexes, etc., are more or less useless.
For details of the nearby Fleshmarket crag click here. For winter routes on the Fleshmarket crag click here.
---
Descents Descents are easy and obvious, either right or left.
The left hand buttress is a bit steeper, and split by a big diagonal crack. The area around Routes 3 and 4 is all pleasant climbing, but the lines are very weak. Some route names have been shortened to save space.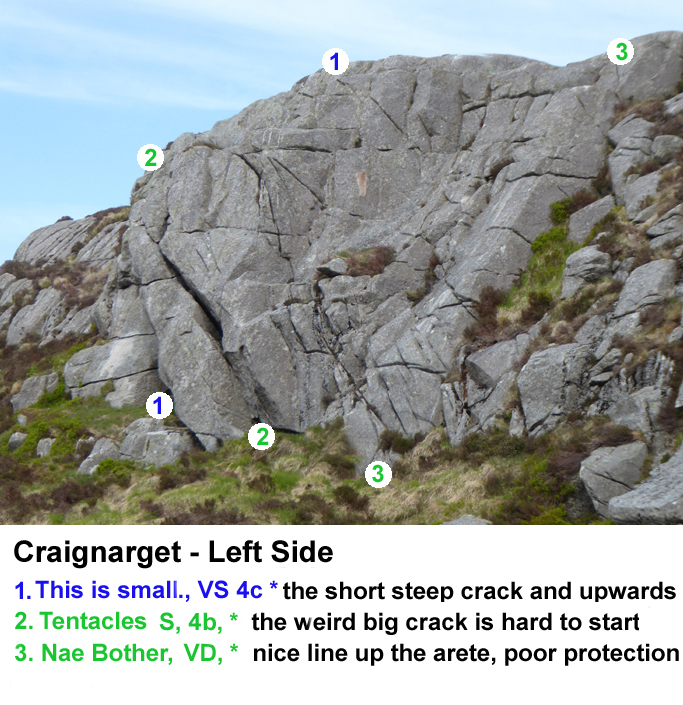 The right hand side is more slabby. Some routes have poor or fiddly protection, particularly Routes 3, 5, 7 and 8.... though 7 could be protected with two ropes and utilizing side runners. The longest routes here are about 15m, but towards the right hand end just 10-12m. Some route names have been shortened to save space.