John Biggar : Mountaineering Instructor
Site last updated Tuesday 5th January 2016.
My contact details appear below.
I can guide and instruct rock climbing, winter mountaineering and ski-mountaineering at venues throughout Scotland and northern England. In the past I have run climbing sessions and mountaineering courses for individuals, schools, military groups, groups of friends, Mountain Rescue Teams and clubs. Have a look at my Go Climbing page for more information. My wife Linda is also qualified to instruct rock-climbing and summer and winter hill-walking, so if I am not around she may be able to help!
Myself, Linda and friends on the summit of Slioch, 980m, Scotland. 1st January 2016. Photo courtesy of Andy Tibbs.
Linda now has her own page within this website as she is now offering tuition and in mountain skills herself. This was her first day out working... teaching navigation in less than optimal conditions on Bengairn.... by the way, the photo was taken during the daytime, at about 11 am!.
---
Get out Climbing !
Go Climbing General information about the services I can provide as a Mountaineering Instructor.
Galloway Climbing & Skiing Stuff
Climbing in Galloway A big index page to further information and pictures of the best crags and rock climbing in Dumfries and Galloway. Including photos, topos and route descriptions for many of the best climbs on over 20 of the best crags.
Winter Climbing in Galloway Some general information and pictures of snow and ice climbing in Galloway.
New Climbs in Galloway Some new routes done since the 2004 SMC guidebook.
Skiing in Galloway Ski mountaineering and touring in Galloway.
Lindas page
My wife Linda is also a freelance mountaineering instructor, this is her page
Other Stuff
New Photos Exactly what it says!
Personal Profile All the dull stuff about me.
Andes The guided skiing and climbing business I run.
Guidebooks The climbing and trekking guidebooks to the Andes I have authored.
Favourites Photos of my favourite climbing areas, mountains, sights and wildlife taken on holidays and expeditions.
Ski Mountaineering A link thru to a ski-mountaineering website www.piste-off.com which I run.
Tips and Tricks Some tips and tricks for climbers, not all of them useful!
Links Some other sites that might be of interest.
---
Galloway Climbers on Facebook
There is a Facebook group for anyone interested in climbing in Galloway - you can post photos, start discussions, find someone to climb with... click on the link below.

---
Contact
If you'd like to try climbing, winter or summer, whether you'd like a taster session, guided ascents or learning to lead, or if you just want any other help advice or instruction, get in touch with me, John Biggar. Contact me by phone on
01556 503929
or write or call in at 37a, St. Andrew Street, Castle Douglas, Kirkcudbrightshire, DG7 1EN, Scotland.
or email me at

---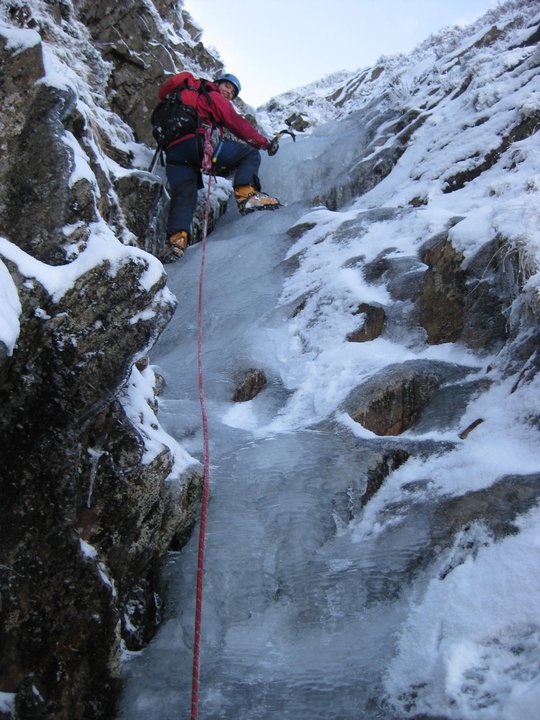 Linda Biggar leading good ice at the top of Better Gully, December 2010.
If you experience any problems with this website (even if it's just a missing picture or missing link) or with the e-mail address please let us know by phone using the contact details above.
This whole website, including all photos (unless otherwise credited), diagrams and text © 2005-2016 John Biggar. Unauthorized reproduction of any part of this website is prohibited. If you wish to use any material from this website please contact me for permission first, it will often be granted for non-commercial use providing you give full credit and link directly back to our site.
The banner picture on this website was taken skiing up the Merrick (843m) in early 2013. Merrick is the highest point in the southern uplands of Scotland. The sidebar is a remake of a picture of new blue stars in the N90 region. A "copyright free" images courtesy of NASA.
---